A quick glance through the Instagram handle of Malayalam actress Ahaana Krishna will help you to vicariously travel to some exotic places such as Kashmir, Maldives, Dubai and Singapore. When Ahaana clicks the pictures of the snow-clad Kashmir, the blue sky of Maldives and the skyscrapers of Dubai and Singapore, they are breathtaking than never before. The snaps of her recent trip to Singapore along with her sisters took the social media by storm. The beauty of these pictures was augmented by well-written notes that portray the uniqueness and memories of each photo.
"I am into travelling in a big way for the simple reason that I love to taste the flavours of different cuisines. When I look at the world globe, I just want to travel to many places," says Ahaana. These words of the actress clearly reflect her love for travelling.
In a freewheeling chat with Manoramaonline's 'Ezhuthonam', Ahaana has shared her travel escapades in Singapore and how she geared up before embarking on the exciting journey to the island country in Southeast Asia, and much more.
What are thoughts about your Singapore sojourn?
We have been to Singapore earlier but wanted to visit that beautiful country again. We had a strong desire to revisit Singapore for long and decided to go there now. During the current visit, we indulged in lot of activities that we loved doing 10 years ago. Then we were in awe of Universal Studios and Flyer and everyone wanted to visit them once more.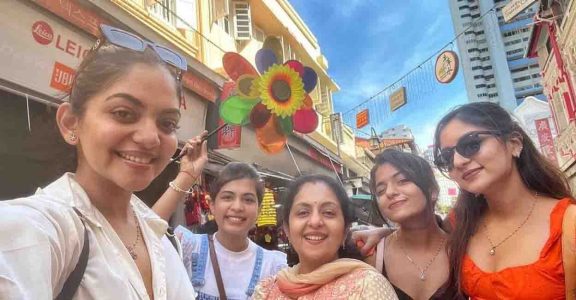 Which one was special? The earlier tour or the current one?
Both tours were great fun. As we went to Singapore for the first time, the curiosity element was pretty high. Undoubtedly, Singapore is pretty as a picture. I was very excited during my earlier visit to Singapore as it was my first travel to a foreign country. At that time I was in Plus Two and there was a wow feeling about the whole journey. I have a feeling that we enjoyed more this time around. As I did all the homework and planning for the present tour, it was more special compared to the first one.
Did you plan the Singapore tour? Was it planned as a ladies-only trip?
Exactly. I usually do the planning for all the tours and will be heading the 'planning committee'. This time we four sisters and mother travelled together as my father was busy with work. Moreover, my father was not very particular of visiting Singapore. Three or four years ago my father had gone to Singapore, and that's how the journey became a ladies-only trip.
Your Kashmir vlog was viral. Can you share your Kashmir travel stories?
I went to Kashmir last December. As a matter of fact, I was planning a Europe trip at that time but unfortunately, the omicron variant of coronavirus started spreading in Europe and it was not practical to go there as lockdown was round the corner. We have to shell out a lot of money while travelling to Europe and the trip may not be worth it if there are travel restrictions due to the pandemic. Later, I decided to postpone the Europe tour for good.
What next was the big question as I had bought a lot of winter cloths. That's when I thought that Kashmir was the best option as I could use the woollen cloths that I purchased for the Europe tour. I also badly wanted to enjoy the mesmerizing beauty of Kashmir as I haven't seen snow and snowfall. I also wanted to get a feel of the winter season, and winter is same everywhere whether it is Europe or Kashmir. But once I knew what winter season is, I don't have an urge get a feel of winter anymore. Though it is great fun to be in a place during winter season, the biting cold can be a bit harsh. Nevertheless, the Kashmir tour was awesome.
How do you pick your travel destinations?
To be frank, I haven't travelled to many places. Hereafter, I have to start hitting the road regularly. I have only toured Kashmir, Ahmedabad and Jodhpur in India, and of course have travelled to Chennai, Mahabalipuram and Puducherry. Dubai, Maldives and Singapore find place on my list of foreign tourist destinations that I had visited. But the list of a travel freak will be exhaustive as he or she might have visited scores of places of interest.
Without doubt, I love travelling a lot and the desire to set on journeys dawned on me quite recently. One would have these kinds of wishes only when one starts to earn. It is a fact there are some who travel with their savings in a minimal way. But most people think about travelling only when they have enough cash in hand. Same is the case with me as I started to get associated with good projects quite recently and now I have a great craving for travelling.
What about the positivity from travelling?
I am very passionate about travelling as I get the opportunity to taste different cuisines of various places. It is better to set on journeys when you are in the pink of health as you have to trek and walk to interesting tourist spots. My credo is to travel as much as possible when I am young. When one gets old and the joints start to creak, we won't be able to travel much.
Moreover, the way I enjoy a place in my 20s will be different when I am 60 years old. You would also get immense exposure while travelling and that would help in boosting your self-confidence. I feel that travelling will provide loads of practical experience as you will be visiting different places, meeting many people and confronting myriad of situations.
Opinion on solo trips
I am bit scared of travelling alone. I have thought about solo trips but love to travel in a group with friends and family members. I may embark on solo travel sometime in future but presently I am not looking forward to travelling alone. While travelling solo, I have to take into consideration certain aspects as a girl. In the present scenario, we have to definitely look into the safety factor.
I am not saying that we are unsafe here but we have to give due importance to the safety of girls while travelling. I am also not trying to assert that it is not safe to travel alone but we have to meticulously plan the solo trips. I love to do certain things all alone like dining out. But currently I am not into solo travel.
What about shoot-related tours?
I haven't travelled much for film shoots. I have only been to Thiruvananthapuram, Kollam and Kochi for film shooting work. Probably you would travel across the world if you are associating with Telugu film industry or Bollywood. And I am praying for such opportunities. I am longing to work in other language film industries and hope that my dreams will come true.
Have you ever embarked on unplanned journeys?
To date, all my tours are well planned. Basically, I love to plan my trips down to the smallest detail. I will plan meticulously even if there is a thought to dine out in a restaurant. I don't have any problem with changing the plan according to the situation but it is imperative to have a thorough plan. Before going to Singapore, we had a detailed plan about what we should do in the morning, afternoon and evening.
How did you plan for the Singapore trip?
We knew what to expect as we had been to Singapore earlier. To know more, we browsed various websites and watched a number of YouTube videos. And that's how we came to know about 'Sun Set Sail', whereby we can have dinner and travel in a cruise ship for four hours. It is indeed an out-of-the-world experience to see the sun go down and dine onboard a cruise liner. I chalked out how a day can be made productive without missing out on any important destinations. I also surfed the internet for the best eating outlets in Singapore.
How do you choose your attire for the tours? Your dress always gels well with the places you visit. What's the secret?
I don't put in much effort to select dresses for the journeys. I periodically buy dresses when I find something great on Instagram. The outfits I wore including the swim suit during the Maldives trip were bought about a year ago. I purchased those cloths with the hope that I will go to Maldives someday. Moreover, the chances of getting clothes of your choice are quite grim when you do last-minute shopping.
We got a lot of time before leaving for Singapore as the tour was planned a month ago. I used to take note of some of the eye-catching dresses that were featured on adverts and tried to find out whether they will be ideal for the Singapore trip. It may be noted that when we went to 'Gardens by the Bay', I wore a white dress with floral design. But that attire was bought much before the Singapore sojourn and I thought of wearing that outfit while visiting Singapore. As I am also a content creator, I love to play with various dresses and colours as the situation demands.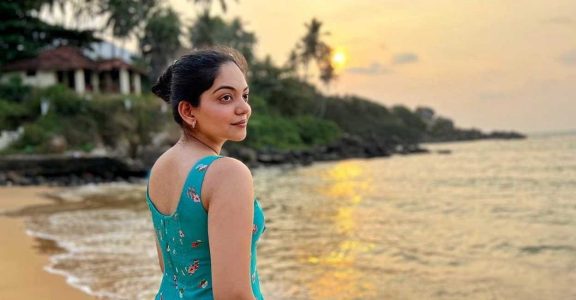 Can you list any unforgettable travel moments?
Of course there are many. What comes to my mind instantly is something that happened during the recent Singapore trip. When we went to Universal Studios, first we enjoyed the enthralling sights and clicked many photos. By evening, my mother told that she was tired and would rest for a while. She was not enjoying the fun rides though we four sisters were busy with the rides and having a ball for close to two hours. And at that time no one was taking snaps and we were all like small children running around and having fun. Without an iota of doubt, I can say that those two hours were the most fun-filled moments of our lives. I get emotional when I recollect those lovely moments.
Who is your best travel companion?
There is definitely a sea of difference between a journey with your family members and a tour with the best buddies. Sometimes family trips can get a bit crazy for the simple reason that it is a tad difficult for everyone to get ready on time. My mother, Diya and I get ready in no time but Ishaani and Hansika are 'slow motion' in play. It can be stressful to convince Ishaani and Hansika not to waste time. But later as you look back, these are all fun and part and parcel of travelling. I think that these kind of things happen in every family tour. I have gone on tours with both family members and friends, and I have enjoyed both.
What's your travel wish?
Though I have embarked on journeys with both family members and friends, I am ecstatic to take my mom to various exotic destinations. I always wanted to travel with my mother to one place or the other and I am happy while doing that. When my mom falls in love with a place that I adore, it makes me very happy. I love to travel with my mother.