A big link of the five southern states with the power centres of Delhi will be gone when Vice President M Venkaiah Naidu demits office on August 10. Not only for Bharatiya Janata Party (BJP) leaders and workers, but for lot of apolitical people in the fields of education, agriculture, industry and social service in the south, Naidu was a two-way bridge between them and Delhi.
During his eventful four decades in Delhi — as an important office-bearer of the BJP; as senior minister in the cabinets of A B Vajpayee and Narendra Modi; as a Member of Parliament and finally as vice president — Naidu kept special focus on Andhra Pradesh (later Telangana was carved out), Tamil Nadu, Karnataka and Kerala. There was hardly any other politician — belonging to Congress or regional parties — who kept this relentless focus on the south.
On his toes, ear to the ground
For BJP presidents from AB Vajpayee to Amit Shah (who was heading the party when Naidu became the vice president), Naidu was the man who knew the southern states thoroughly having visited districts and towns ever since the BJP was founded in 1980. He would stay in houses of party workers when the party budget was very limited, often being driven in vehicles belonging to party leaders. Once he said he felt he was born with wheels on his feet, as he liked to be in a new place every day, and this wanderlust to visit places and meet people was very much there even when he was the vice president. Playing badminton every day wherever he stayed helped him keep fit.
Naidu himself was the party president during the eventful period when there was a tussle between Vajpayee and Modi over following 'raj dharma' in Gujarat over the riots of 2002, and Naidu had quelled demands in the party for removal of Modi as chief minister. Known as a staunch loyalist of Vajpayee and Advani, Naidu however quickly adjusted to the new power duo of Modi and Shah when the party decided in favour of Modi as the prime ministerial candidate.
Early public life
Though seniors like Jagannathrao Joshi of Karnataka and Jana Krishnamurthy of Tamil Nadu were big figures in the Bharatiya Jana Sangh, and Krishnamurthy too became BJP president, it was Naidu who networked with leaders and workers in all the southern states. His mother tongue was Telugu but he had picked up good Tamil as his hometown Nellore was nearer to Madras and was in the undivided Madras state; his stint as a legislator and state-level party office-bearer in Hyderabad made him pick up Urdu and Hindi well.
He was much in demand as translator from Hindi to Telugu for Vajpayee, L K Advani and other leaders. Later representing Karnataka in the Rajya Sabha, he also picked up a smattering of Kannada, and regrets that the only southern language he could not concentrate on was Malayalam. His multi-lingual skills made him popular with the southern units which called him for election campaigning so that he could speak in the local language. Shift to Delhi
Vajpayee was impressed with Naidu's capacity for hard work and travelling, and he was soon summoned to BJP headquarters in Delhi, even as the party was growing following the Ram Janmabhoomi Movement. He was an articulate party spokesperson as he befriended the Delhi media, especially those representing newspapers and TV channels from non-Hindi states. His extensive reading and ability to alliterate English words made him a sought- after leader for quotes by the media.
As incharge of the south Indian cell of the BJP in Delhi he called south Indian residents for regular get-togethers on religious festivals and state formation days. Naidu also maintained contact with powerful regional parties like the DMK, AIADMK and Telugu Desam, impressing upon them that they should not treat the BJP as untouchable, especially as it was fighting the Congress policies, like they were doing. He would hold meetings with N T Rama Rao, Jayalalithaa and M Karunanidhi, and also would carry messages to the BJP high command on the priorities of these leaders. His family's agricultural and business interests were also mainly in Andhra Pradesh and Tamil Nadu. Tactful and strict in Upper House
Naidu's Rajya Sabha membership from 2016 to 2017 helped expand his network as he could impress on ministries the work that was needed in southern states, especially as the BJP had its first sizeable numbers from Karnataka only in the 1996 Lok Sabha election, and the party has been returning impressive numbers from the state.
In the Rajya Sabha, he handled the aggressive opposition with his own witty style, but would be uncompromising on enforcing discipline. Many a senior member were disappointed as Naidu stuck to the time allotted to members. But when he returned to the Chairman's chamber, he would ask the staff to either call the concerned member for a cup of coffee or at least make a phone call. The opposition would protest that he was unfair, and he would respond saying "yes, yes, i am unfair not only to you but to this side also. I am impartial in unfairness!", plunging the house into laughter.
Effective handling of parliamentary affairs
His handling of the Parliament as parliamentary affairs minister (2014–16) impressed PM Modi, who chose him to be the vice president, so that the Rajya Sabha where the BJP was in minority, could be handled effectively. Naidu ensured that the government business got done despite the noise of opposition protests with his own style of tact, toughness and praise.
Trusted mentor to young party guns
Naidu also groomed younger leaders from southern states and made them familiar with the essentially north Indian leadership of the party. A younger leader who had the same kind of linguistic skills, organisational experience with the party youth wing Akhil Bharatiya Vidyarthi Parishad and rapport with central leaders was late Ananth Kumar from Karnataka. Though he was one of the youngest cabinet ministers and a BJP parliamentary board member, Ananth Kumar did not concentrate on the other southern states as he was drafted by the party to look after central Indian states due to his fluency in Hindi.
Other BJP leaders from the south in recent days, whether ministers or party office-bearers, have also limited themselves to their states. It was said that D V Sadananda Gowda who was Karnataka chief minister and later minister with important portfolios like railways, law and justice, chemicals and fertilisers would travel on Friday from Delhi to Bangalore and return to Delhi on Sunday, as Bangalore was his Lok Sabha constituency. AIADMK and DMK ministers from Tamil Nadu also would collectively fly on Fridays to Chennai and return to Delhi on Monday, avoiding other parts of the country unless they had official meetings.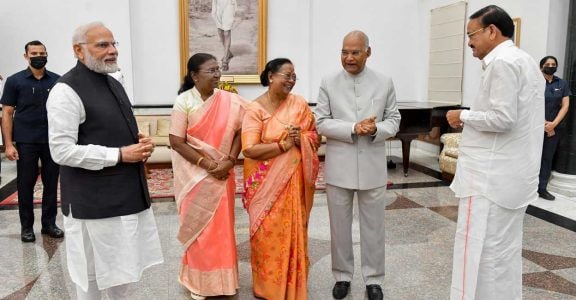 Stint as minister, party chief
As the Urban Development Minister in the Modi Cabinet from 2014 to 2017, Naidu could use his official clout to take up issues of southern states more effectively, even while liberally sanctioning projects and funds. He pushed hard for expansion of metro and bus systems in major cities.
When he was elevated as the party president, Naidu gave up the BJP membership, discarding his vast collection of colourful waistcoats popularised by Vajpayee and Advani, which are now worn by Modi and most BJP leaders. He adopted a white dress code, unless ceremonial occasions or cold winter days forced him to don the formal bandhgala (Jodhpuri suit). Despite the protocol and security requirements which made every travel to be planned in advance, the wheels on his feet refused to slow down. Invitations poured in from all parts of the country, more so from south, and Naidu managed to squeeze in maximum visits to the south, especially Hyderabad, Chennai and Bangalore. He would also give extremely important feedback to Modi and his senior ministers on the southern imperatives, strictly within the constitutional framework.
Hectic schedule
There were programmes galore, but his frequent visits made it difficult for governors, who were duty-bound to receive and see him off. One governor who had his bigger share was E S L Narasimhan who was governor for both Andhra Pradesh and Telangana. But Naidu kept up a frenetic schedule, visiting hundreds of institutions and participating in programmes of educational institutions, agricultural bodies and professional organisations.
On touchy language issue
Naidu also articulated that mother tongue was important, at a time when PM Modi and his senior colleagues like Rajnath Singh, Sushma Swaraj, Amit Shah, Narendra Singh Tomar and others were using Hindi as the language of administration and communication. Even southern ministers like Pralhad Joshi and G Kishan Reddy were using more Hindi. But when some circulars of the Union home ministry under Amit Shah on use of Hindi or elements of the New Education Policy caused annoyance in Tamil Nadu, Naidu insisted that all languages were equal and were meant to make communication easier, not difficult.
Good host too
Naidu continued to be a generous host inviting politicians, bureaucrats, judges, and media persons for cultural programmes. But the main attraction was the abundant and tasty food, with food items from all southern states. Unlike the insistence among the ministers for vegetarian food at official functions after Modi came to power, Naidu would always offer the choicest non-vegetarian delicacies from the south, especially prawn and chicken. He was unfazed by any diet code. He would say throughout his political career he has shared his meals with workers and ordinary people, and even at vice president's house, invariably there will be a couple of invitees for breakfast. Likely legacy
Despite being a strict Rajya Sabha Chairman, Congress chief whip Jairam Ramesh hailed Naidu's tenure as a productive one. Ramesh wanted Naidu to be made the chairman emeritus as he had made the most contribution in recent decades to Rajya Sabha.
As he moves into retirement in New Delhi, Naidu would still have wheels on his feet. There is regret among his admirers that he was not chosen to be the president. Hhe had once quipped that he did not want to be 'rashtrapati' and was happy to be 'usha-pathi', referring to his wife Usha. But with Droupadi Murmu from Odisha and BJP's VP nominee Jagdeep Dhankar from Rajasthan in high constitutional offices, the southern connect to Delhi gets that much weakened. Like there were people's presidents, Naidu would be remembered to be the people's vice president.