The lockdown in the aftermath of the coronavirus outbreak has brought to the fore the strengths and weaknesses of governance.
Governments and its leaders have had to perform stressfully under the corrosive influence of the coronavirus.
After six years of a majority government led by a politically aggressive prime minister and his well-knit cabinet, the states were feeling neglected especially after much of their taxation powers were subsumed in the Goods and Services Tax (GST) regime.
When the coronavirus surfaced in China and started spreading, the Modi government unravelled various initiatives through the ministries of health, home, civil aviation and external affairs from mid January to mid March.
The problem was seen as a crisis involving international travellers and the approach was to screen and sanitise them.
Then it was a humanitarian rescue operation by civilian and military planes to bring the stranded travellers and put them in quarantine at camps facilitated by the Central government.
Only in mid March, following opposition clamour and worsening situation in several countries the states were roped in.
There were some bureaucratic suggestions that there should be direct coordination with centre, but prime minister who had advocated cooperative federalism when he came to power wanted states to be the frontline warriors.
This led to better coordination with states. In a series of video conferences of the prime minister with chief ministers, he also spoke to them regularly, listening to complaints and suggestions.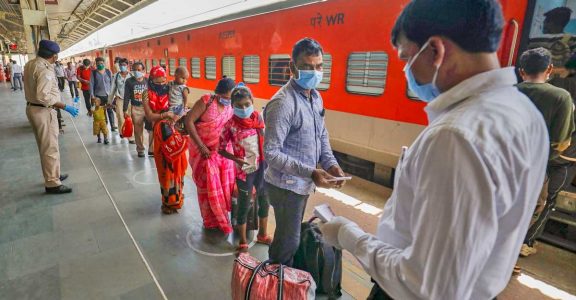 Interestingly Home Minister Amit Shah, who handles Disaster Management, has not held a video conference with state home ministers, though he and his ministry are working round the clock.
The crisis management meant the strength and weaknesses of state governments - both in day to day implementation and the built in capacity of the public health infrastructure – was brought to the fore.
States like Kerala, Karnataka, Uttar Pradesh, Himachal Pradesh, Punjab and Chhattisgarh have managed the crisis better due to strong leadership, absence of political confusion, effective bureaucracy and compassion.
Surprisingly industrialised states like Maharashtra, Gujarat and Tamil Nadu have suffered due to weak political leadership, unresponsive or unsympathetic system and inability to cope with load.
The only state which is witnessing intense centre-state confrontation is West Bengal where Chief Minister Mamata Banerjee is engaged in a war of words with state governor Jagdeep Dhankar.
Kerala's management of the crisis so far has received national and international attention.
The state has done well on parameters of positive cases, recoveries, fatalities and contact tracing, despite the high number of international passengers who entered Kerala since December.
The chief minister's administrative dynamics and the sustained efforts of Health Minister K K Shailaja prompted other states to look for clues from the state, where public health infrastructure and grassroots organisations have been built in over decades by successive governments.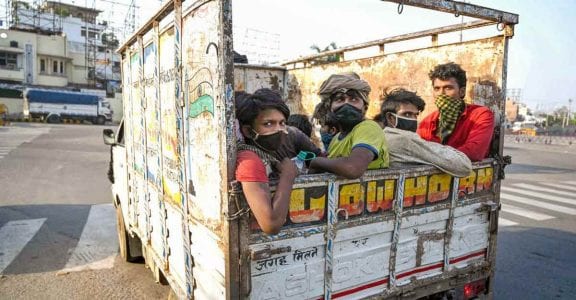 Odisha, which is a net exporter of migrant labour to all parts of India, has the most experienced chief minister of the country in Naveen Patnaik, in power since 2000.
He relies on a team of efficient bureaucrats and strong panchayats.
The state also has enormous disaster management experience through handling major cyclones regularly.
Another experienced chief minister, Amarinder Singh of Punjab has steered his team well, giving long experience of the state handling lockdowns during Sikh militancy years.
With a strongman like Adityanath as chief minister who has total political control and excellent relations with the national leadership, Uttar Pradesh has tackled the crisis through strong lockdown measures. Though the most populous state's public health infrastructure is less than average, the police force has been effective in contact tracing and enforcement of quarantine.
A quick decision maker, Adityanath has moved round the state and sealed borders with Delhi.
He also showed his clout by first sending buses to Delhi to bring back migrants and later to Kota in Rajasthan for stranded students, despite the general ban on inter-state travel.
He has also arranged for receiving ten lakh workers.
However there is criticism that the police are using strong-arm tactics against the minorities and government's critics.
The hill state of Himachal Pradesh earned Modi's praise for maximum testing of the state population.
Chief Minister Jairam Thakur, whose wife is a doctor from Karnataka, has focused on mass testing and providing basic health care.
Even though several districts are hotzones due to positive cases, there are fewer serious cases and contact spreading has been curtailed so far.
Gujarat, which had been propagated as a better development model when Modi was chief minister, has been exposed for its less than adequate response to the pandemic.
Chief Minister Vijay Rupani's administration has struggled to control the surging number of cases and fatalities.
One of the richest states in the country, Gujarat has been accused of being insensitive to the plight of migrant labourers who lost jobs and had no funds to return home.
Maharashtra is suffering the effects of coalition politics as the present three-party government headed by inexperienced Uddhav Thackerey tackles an eruption of cases in Mumbai-Thane-Pune industrial belt, the region with the highest population density in the country.
The police under Home Minister Amit Deshmukh of NCP has not been adequate in contact tracking and lockdown enforcement. Further the high non-Covid death count in Malegaon town of Nashik district has led to suspicion that the families have failed to report the cases. Now, there is fear of undetected infections in the textile town. NCP minister Jitendra Awahad also made light of pandemic by holding large gatherings at his bungalow until he and some staff members tested positive.
The corruption charges on purchase of personal protection equipment and other medical supplies in Tamil Nadu been a shocker.
The southern state has the best medical procurement policy developed during the tenure of M Karunanidhi and Jayalalithaa. The political weakness and inexperience of Chief Minister Edappadi Palaniswami is evident as police did not stick to procedures when Chennai's largest vegetable market opened.
But Tamil Nadu has done more tests than several states.
The picture is one of contrast in Telengana and Andhra Pradesh, states bifurcated from a single entity in 2014.
In Telangana, Chief Minister K Chandrashekar Rao has been wary of more tests and has enforced stringent lockdown to contain the pandemic.
He has shut the state's economic engine, Hyderabad, for controlling cases.
On the other hand his younger counterpart in Andhra Pradesh Y S Jaganmohan Reddy has gone for aggressive testing and has involved panchayats vigorously both for detection and distribution of relief material.
He is impatient to reopen the state.
Both enjoy brute majority in their states and had huge inflow of NRIs since December.
West Bengal, which has only average health infrastructure despite the 34-year-rule of CPM followed by Mamata's nine-year regime, is a political battlefield.
Mamata, one of the most instinctive politicians, is leading the fight from the ground, but the centre suspects she is ineffective and is hiding true numbers.
As the BJP seeks to wrest power in next year's Assembly elections, the fight has become dirty, with Governor Jagdeep Shankar not only sending negative reports to the centre but also publicly criticising Mamata.
The BJP is accusing her of stalling relief efforts by its workers.
But the state which bungled politically and administratively has been BJP-ruled Madhya Pradesh resulting in a surge in number of cases.
The prolonged attempt by the BJP to split Congress and to bring down chief minister Kamal Nath was followed by a long period when BJP Chief Minister Shivraj Chauhan was the only minister.
Meanwhile, an irresponsible health secretary, who violated rules to bring her foreign returned son not only got infected, but passed on the infection to others.
As civil and police officials were worried about their future, the state was in limbo. Finally when it got a Health Minister Narottam Mishra, he went to his constituency without wearing a mask and violated social distancing norms.
He had to be pulled up by the BJP national leadership to be more careful.
Bihar, led by veteran administrator Nitish Kumar, has managed the lockdown carefully. It went for sealing of all activities though it did small number of tests due to poor health infrastructure.
He had resisted bringing the 40 lakh migrant labourers from different states as the government did not have the facilities to handle them.
Now they are coming home by trains to test the state's preparedness.
Delhi has been proactive in sealing of hot zones, but popular Chief Minister Arvind Kejriwal blames the high incidence due to huge number of visitors through the country's busiest airport.
Though the Delhi police is under central government both the state administration and police failed to prevent the 20,000 strong Tablighi Jamaat congregation in central Delhi.
Apart from health and police, the lockdown also held a mirror to the performance of other departments like food, public distribution, urban development and labour.
Thus the state-wise performance could be categorized as good, bad or average, the lone show of unity was only in demanding funds from the centre.