Lucknow: Around 10 years ago, Sangeeta Pandey from Gorakhpur thought of generating some additional income when her family was not financially stable.
When she turned up for work with her daughter, people raised objections and said that it would not be possible for her to take care of her child and also work.
Finally, she got work in an institution at a salary of Rs 4,000 per month. The next day she left her daughter at home but realised that it was for her betterment that she wanted to work in the first place and that depriving the child of her mother's love would not be a good start. So, she left the job.
It's said, "It is a bird's imagination, not its wings, that determines how high it can fly." Pandey proved this by gaining huge success in her venture despite not being financially strong. Pandey shared that she wanted to do something in her life but could not decide what. She said that she had once seen a box of sweets being made and thought that this could be done. Her business started with a cycle and Rs 1500 but has now crossed the Rs 3 crore mark. Alongside, Pandey also nurtured her nine-month-old baby.
She recalled that her search for raw materials started on a Ranger cycle that was lying in her house. The raw materials were bought for Rs 1500 and brought home on the same cycle. She added that the joy of preparing 100 boxes in around 8 hours was unmatched.
Despite not having any prior knowledge of the market, she went and spoke to some businessmen and calculated the input cost and profit per box after coming home that day. She went to the market again to sell the boxes but was told that boxes were available cheaper than her selling price.
Somehow, she sold the finished goods. Pandey said that she was later told by some people that raw materials were available at a cheaper price in Lucknow, which would reduce her costs. She then reached Lucknow with savings of Rs 35,000 and brought materials worth Rs 15,000 home by bus. Along with preparing the boxes, the focus was also on collecting capital, said Pandey.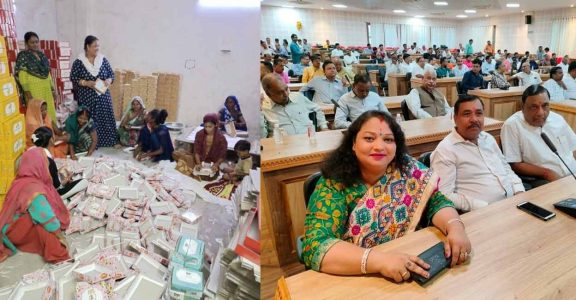 She tried to take a loan from the District Urban Development Agency (DUDA) which did not materialise as her husband is a traffic constable. She then took a gold loan of Rs 3 lakh by mortgaging her jewellery and got one lorry full of raw materials from Lucknow.
Pandey returned to Delhi to reduce the input cost of the boxes and was supported by the traders. Soon, raw materials started being available on credit. Earlier, she ran the business from home and stored the stock there. As the business grew, her space fell short, so she took a loan of Rs 35 lakh to set up a factory, and another loan of Rs 50 lakh to increase her business.
While goods were supplied by cycle and two hand driven carts earlier, today the Pandey family owns a tempo and a battery-operated rickshaw that are used for making deliveries. Pandey said that they also own a car and scooty and all three of her children study in good schools.
Renowned shops of Purvanchal, pizza, cakes and sweets outlets are her customers. Artisans from Delhi have been hired to ensure that the products are of top quality, who work and train others as well. Pandey provides direct and indirect employment to 100 women and a dozen men. She visits Punjab, West Bengal, Gujarat and Rajasthan in search of quality raw material.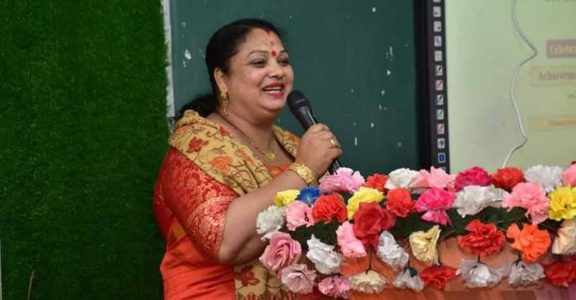 She shared that she has not forgotten her days of struggle, which is why she sends raw materials to the homes of many working women who have small children so that they are able to work, provide for their families and also take care of their kids. Pandey concluded that apart from women, handicapped and deaf people also work for her.