A video of a bride, clad in a stunning red silk saree, playing Singarimelam along with a team of young chenda artistes at Guruvayur, Kerala's famed temple town, is the latest sensation on the internet. The young lady has mesmerised netizens with her impeccable performance, confidence and attitude. To those wondering who the viral bride is, she is Shilpa – a Malayali engineer based in Abu Dhabi. Her instant performance on the big day in her life was a reflection of a passion she has been nurturing from childhood, spent mostly in the Gulf.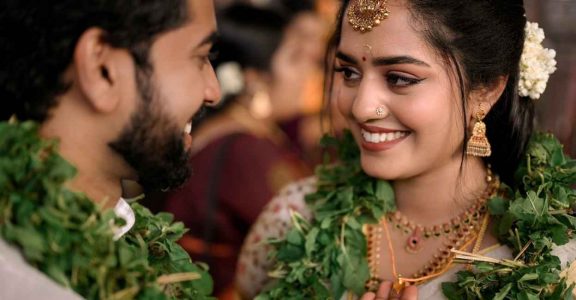 Rhythm of wedding

Shilpa got married to Devanand at the Sree Krishna Temple, Guruvayur on December 25. Hailing from Chovvallur near Guruvayur, she works at New York University, Abu Dhabi. Devanand, a native of Kannur, is also an engineer with a firm in Dubai. Shilpa is the daughter of Sreekumar Paliyath, an NRI who keeps his heart close to the culture of his homeland. Paliyath, who is the director of a shipping company under the Abu Dhabi Ports, is also a chenda performer. He is part of Seek Singarimelam, an art and culture outfit of Thrissur natives in the UAE.

The chenda performance (chenda melam) was held at Rajavalsom Hotel near the Guruvayur temple where the post-wedding reception was arranged. Shilpa had planned to join the performers for a while but not to the extent of what it turned out to be.
The performance was organised as a surprise for the guests, including relatives of both the bride and the groom. Only Shilpa, her parents and brother knew about the plan. The plan turned out to be grander when Sreekumar and Devanand also joined in.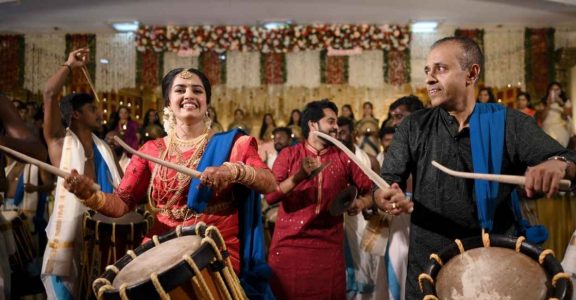 "My children were brought up in the UAE and they had little exposure to the culture of Kerala. So I taught them about the land and its culture since they were kids. Apart from chenda, Shilpa is trained in classical and fusion dance and has won several prizes. She is also the leader of the first women's chenda team in the UAE," Paliyath, the proud father, told Gighio over phone on Thursday as the newlywed couple were busy finishing the registration procedures of their marriage at a municipality office.
Shilpa performed with Ponnan's Blue, a famed Singarimelam troupe based in Thrissur. She had performed with them in the film 'Kuttanpillayude Sivarathri'. "When I invited them to the wedding, they suggested to give a surprise performance to the guests," Shilpa said. She said she never expected the random video shot on mobile to go viral.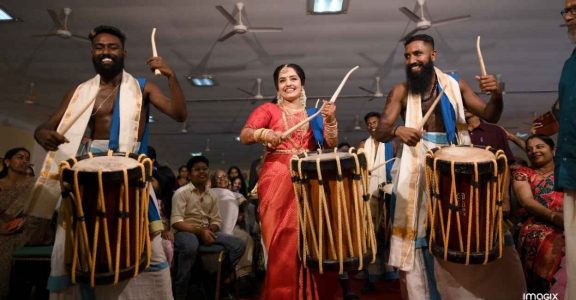 Breaking barrier

Paliyath said he sensed his daughter's interest in chenda from a young age. "She used to carry with her a toy chenda when she was a kid. Girls are usually not interested in toys like chenda. When I sensed she had a sense of rhythm I sent her to learn the instrument. Many around me were concerned whether a girl could play an instrument like chenda which is usually performed by men. I wanted my daughter to break that gender barrier," he said.

She was trained under three masters – Rajesh Sadanam, Shyju Kannur and Rajeev Palakkad. Though it was the fast and popular 'shingari' version of chenda that was played a her wedding, she is equally at ease in performing the more nuanced styles of 'panchari', 'chempada' and 'pandi'.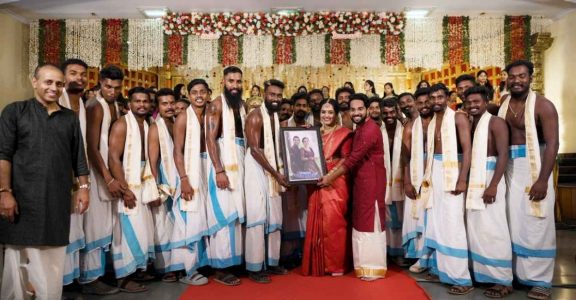 Playing for a cause

Paliyath learned chenda just to enrich his enjoyment of the performance. He then not only started to perform but also to put in whatever effort he could to popularise the south Indian percussion instrument in the country where he works. Seek Singarimelam, the troupe he is part of, has been performing at major events like the UAE National Day, India's Republic Day and also at Arab weddings. They have also performed at a replica of Thrissur Pooram, the famed temple festival of Kerala, in the UAE.
    
The organisation has been engaged in a lot of charity works also, including helping labourers in camps.  They also perform for free at events organised by organisations which don't have a strong financial background.