Gone are the days when people used to buy furniture that were just enough to meet the requirements of the family members. Now, furniture pieces have become designer items that grant unique identity to the spaces rather than for its utility. Even though cane furniture is quite popular, trying unique and interesting designs in them has been the latest trend. Hyderabad based furniture company 'The Wicker Story' specialises in designing and making custom made cane furniture that can transform the overall look of the interiors.
The Wicker Story is the dream project of Priyanka Narula, an upcoming entrepreneur. Priyanka who had been working in the architecture field turned to making furniture using natural materials after realising its sustainable qualities. Cane furniture and other décor items are made by blending traditional artistry with modern technology.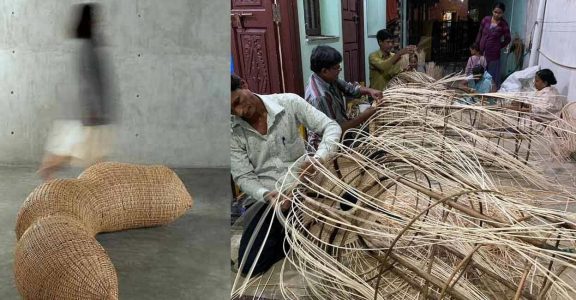 The designer cane furniture perfectly suits the interiors of the traditional abode or a chic contemporary dwelling. Moreover, the flexible nature of cane is an added advantage as the furniture pieces could be easily customised. Initially, the company couldn't find a foothold in the market as it built furniture only as per orders. However, the demand for crafts and sustainable furniture soared during the lockdown period.
A designer bench in the shape of a tamarind was the first piece of furniture to be made at The Wicker Story. Now, lamp shades, windows, designer pillars and other items in the shape of flowers, sea shells and envelopes are made here. In the last three years, the company had even won many prestigious awards in this field.
The cane furniture is quite expensive as they are exclusively made on demand. For instance, the 'tamarind' bench named 'imli' costs around Rs 42,000. Lots of people, from around the country, approach The Wicker Story, looking for amazing furniture pieces that could make their dream homes look spectacular. Now, Priyanka is exploring the scope of exporting these indigenous furniture pieces that reflect the incredible cultural heritage of the country.