Malayalis often recount how they grew up reading and appreciating fairy tales that were translated from German, English and Russian. Russian language seemed to have enjoyed the greatest amount of popularity in most parts of India thanks to the easy availability of books from publishers such as Progress and Raduga. Unfortunately, many children missed out on stories on places that were set in lands much closer to home since there was little initiative taken by the translators and publishers to make Indian folktales popular. One of the great pioneers of this idea to make stories from Tamil and the Telugu-speaking states popular among Malayali children was a school teacher from Kollam district - Sooranad Ravi.
Born in 1943 in the picturesque village of Sooranad, which borders the Kollam, Alapuzha and Pathanamthitta districts, Ravi belonged to a generation of idealists who believed in the future of a newly-independent India and were followers of Hindu reformers. Ravi was deeply influenced by Chattampi Swamikal, who believed that education was the birthright of every single person regardless of caste or creed. Dedicating his life to academics, Ravi worked as a school teacher at Mannady in Pathanamthitta.
He excelled as a short story writer and looked to bring India and the world to children. Among his best work was 101 Kathakal (101 stories), a large collection comprising legends, history, myths and the puranas. Ravi also took a deep interest in Buddhism and his Sachithra buddha kathakal (Illustrated Buddhist Stories) is another fine work.
Ravi's contributions as a translator, though, is what sets him apart from many of the greats of Malayalam literature. Among his most well-known translations is Sreebuddhan, Asiayute velicham, the Malayalam version of Edwin Arnold's 1879 classic The Light of Asia, which describes the life of the Buddha in a narrative poem form.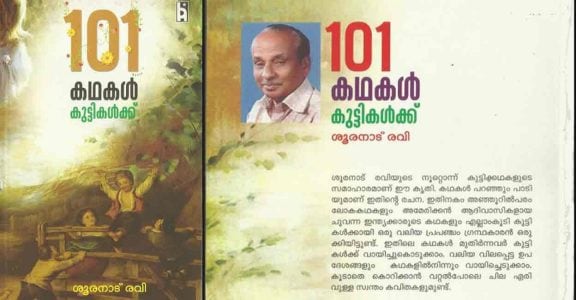 National integration
The cultures and languages of Kerala and Tamil Nadu will forever be intertwined and many Malayalis have a very good understanding of conversational and informal Tamil, but the rich literature of the language is still above the comprehension of an average Malayali. Most people rely on English translations. Ravi took the initiative to translate the ballads of Thanjavur to Malayalam. He was fond of music and wrote books about the songs of Pongal. He also translated a collection of Tamil folktales to Malayalam, with many stories in the collection highlighting the causes of marginalised members of society.
Ravi's wide range of translations included Telugu folktales and stories of Tirupathi Balaji. As an avid Gandhian, he translated the Mahatma's last sermons as well as parts of his diary. It's quite obvious from his rich bibliography that Ravi was keen on using his writing and language skills to bring people closer together.
It's unfortunate though that children's writers in independent India have rarely gotten the respect and attention they deserved (with a few notable exceptions). In all fairness, Kerala has been kinder to writers of this genre than most states in India. In 1981 the Kerala State Institute of Children's Literature was established by the authorities and comes under the state's cultural ministry. Ravi's work was recognised by the institute and it promoted his works at the prestigious Thiruvananthapuram Book Fair. In 2018, the institute gave him an award for his outstanding contribution to children's literature. Unfortunately, his fame was mostly restricted to Kerala, with there being little to no information about him in the public domain. His Ariyunda received the NCERT National Award for children's literature in 1989.
Ravi passed away in 2018 at the age of 75. The best way to honour his legacy is to popularise his work among a new generation of Malayali children who live away from Kerala and don't have much more than a familial link with the state. Ariyunda, Onapanthu and Killipatukal also merit translations to English and other languages so that they don't just remain confined to Kerala. There is a growing trend among Malayalis abroad to teach their children about the state's folklore. Ravi's writings would also find takers if they were adapted into animation films. It should be our common endeavour to ensure that folktales from Kerala and other parts of southern India find their way to far corners of the world, in the same way the most celebrated foreign fairy tales made their way to India.
(Ajay Kamalakaran is a writer and independent journalist, primarily based in Mumbai)