There is a stunning home in this little place in Malappuram. What makes this home such a beauty?
The family was first torn between picking contemporary or traditional designs for their home. It was somehow usual to see boxlike homes around that get filthy quickly due to rain and sun. Therefore, they decided to build a home that was Kerala weather-friendly. They wanted a home that looked traditional but was fitted with all the modern amenities. That is how the multi-tiered sloping roof with pointed sides became the star of the exterior of the house. This roof also helps to block the scorching sun while giving the house a different look.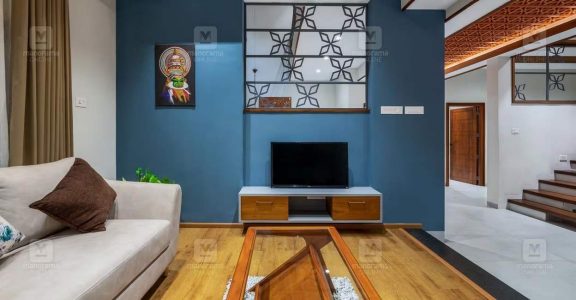 They were against enclosing their home with a wall that kept it hidden from the outside world. So the enclosure is made with brick lattice and metal rafters in a minimal design.
Sitting, patio, foyer, formal living, family living, dining, kitchen, workroom, two bedrooms, and bathroom are on the ground floor. Upper living, two bedrooms, bathrooms, and an open terrace are on the upper floor. It has a total area of 2984 Sq.ft.
It is clear that they designed the interiors without being too indulgent with decorations. A lovely positive energy can be experienced inside the house.
Wooden tile flooring and wooden ceilings are the highlights of the formal living. They preferred customized furniture and designed the windows in such a way that natural light streamed in abundantly. The stair is in wood+metal finish. Just below this is a courtyard and a skylight in the ceiling. Natural light fills the house through this.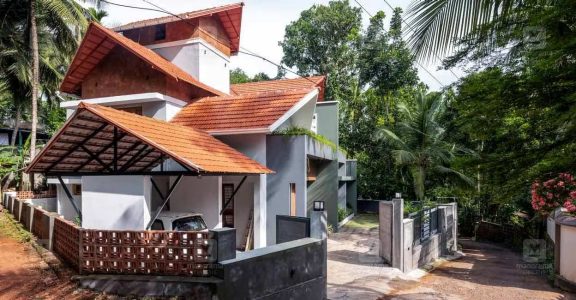 The dining double height helps to feel spacious. The dining set is made of wood. There is an attached wash area. It was said that the kitchen should not be closed off from other places. A service counter opening to a dining hall was provided for that. It also ensures visibility to other areas beyond the food serving facility.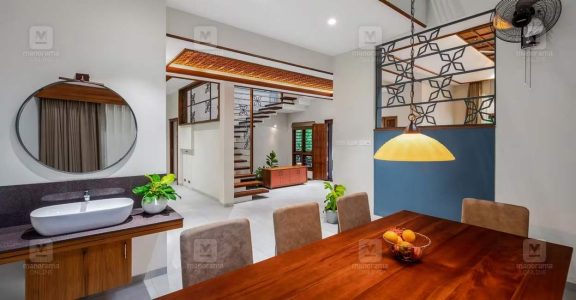 The bedrooms are arranged according to the taste of the family members. The attached bathroom, wardrobe, and dressing space are also arranged.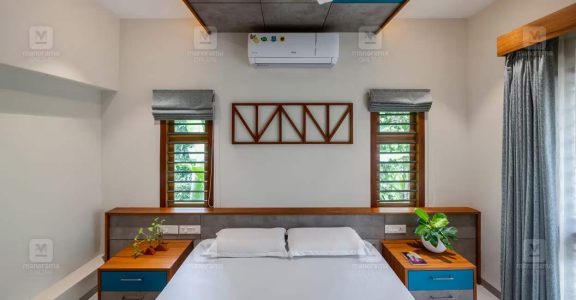 The kitchen has a simple elegant theme. The cabinet is in plywood+PU paint finish. A textured finish tile was laid on the splashback. The counter is white granite. A small breakfast counter is also prepared here. Also has a work area as a supplement.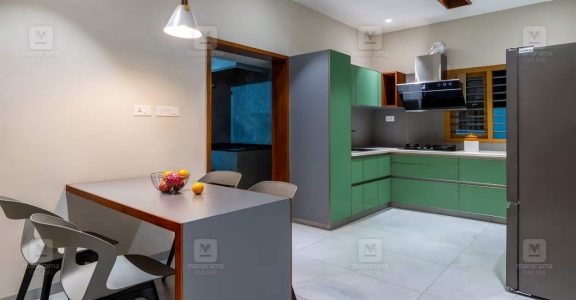 There is a different road in front of the house. It is special that the house gets a different look from different parts of the road. In short, the family is happy to have the house they wanted.
Project facts
Location- Vengara, Malappuram
Plot- 15 cent
Area- 2984 Sq.ft
Owner- Anil Kumar
Design- Divin P, Ahammed Faiz
Honeycomb Architects, Calicut
Y.C- 2022