This charming single-storey house that stands in the middle of lush greenery is located in Vandoor, Malappuram, Kerala. Everything about this house is special. Take for instance the sloped roof that's placed at different heights, which ends up adding a two-storey feel to the house. The tiled sloping roof is perfect for Kerala weather.
The porch, sitting room, formal living, family living, dining, kitchen, workshop, three bedrooms, and attached bathrooms are included in the 3100 sq. ft space.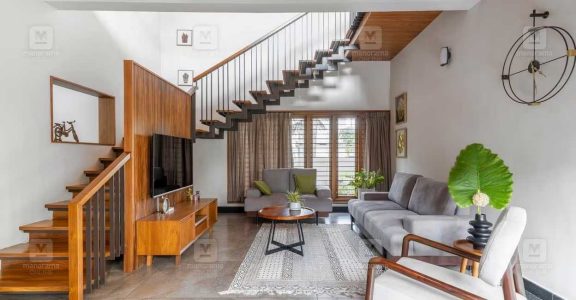 The highlight of the sitting area would be the teak wood louvres. But guess what takes the cake? Their beautiful, open courtyard where rain and sun get a free hand. And the indoor plants bring a special greenery to the place.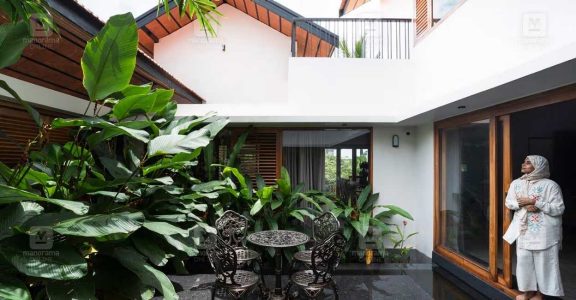 All bedrooms and common spaces are connected to this charming courtyard. That also means, from anywhere inside the house, you can savour the beautiful views of the courtyard. The courtyard also does the job of expelling the warm air from the interiors and filling it with cold air.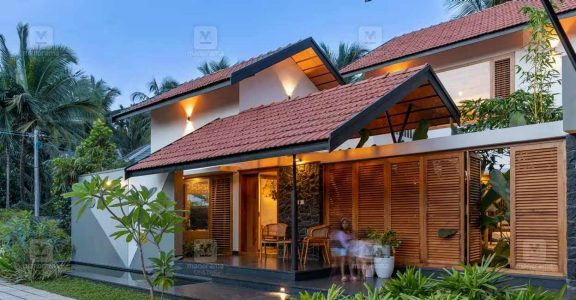 You can't help but admire their stunning dining table in teak wood. Also, check out the various shelves in different hues that stand next to it. You can go out from the dining room through the folding glass door. Through this also wind and light will enter. The stair is made of teak planks on a metal frame. Handlines are made of GI. By the way, their family living area is arranged near the staircase. The highlight here is the fluted wooden panelling TV unit and customized furniture. The bedrooms are decorated in different themes. Differentiation was brought about by preparing the head side wall in the theme of natural stone, cement texture, and brick cladding. All rooms have attached bathrooms, wardrobes, and dressing spaces.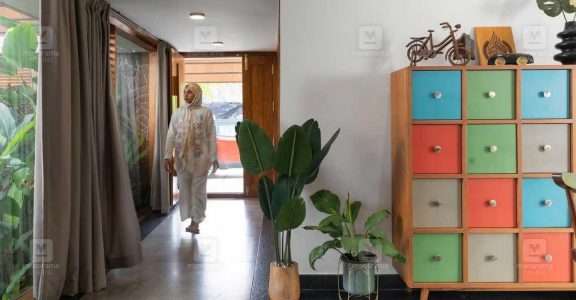 The modern kitchen has everything within easy reach. The cabinet is in a plywood-veneer finish and there are excellent granite countertops. Many people who are keen on buying a home are planning a visit to this house for bright new ideas.