Though it was at the heart of the city, Vimal and Lakshmy's new home had a strange tranquillity. And the friendly couple who loved socializing wanted a home that kept them closer to their neighbours. A house and ambiance that was warm and welcoming. And that's exactly what they have achieved in their new home.
Lakshmi's parents had a quaint old ancestral house in 14 cents. They opted to demolish it and divided the property equally. Thus, their new home was built in 7 cents with abridged width and amplified length.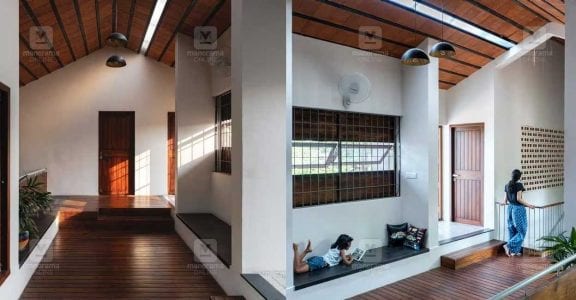 But if there was one thing that the family wanted to retain, it was their favourite golden shower (Kani Konna) tree. They had a deep emotional attachment to the tree that was associated with so many happy festival memories in their family. When they sketched the plan for their new home, that was considered.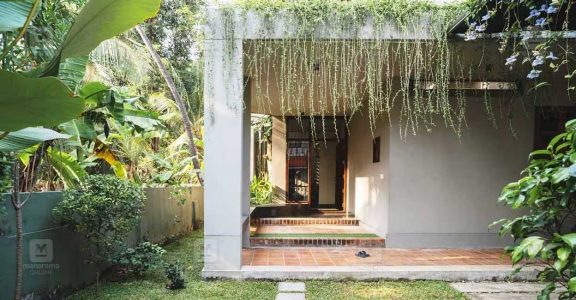 Since Vimal and Lakshmy wanted to focus on making their home interiors warm and plushy, they decided to go easy on the exteriors. But they made sure there was a charming, trussed sloping roof and latticed walls.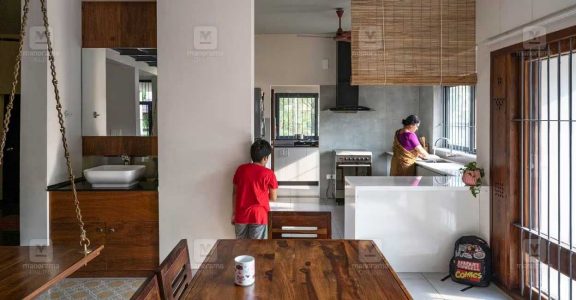 A sit-out, living room, dining space, courtyard, kitchen, workshop, and three bedrooms were on the ground floor. The house had an upper living room, balcony, two bedrooms, and utility space on the first floor. The total area was 3030 Sq.ft.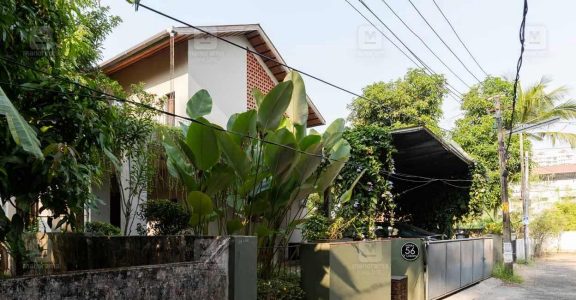 To make sure their home looked welcoming from the outside, they even built a wall that didn't entirely cover the house from the outside. Large, intimidating walls somehow gave the impression of an unfriendly neighbourhood. They also did a smart thing by keeping a low-slung wall that can double up as seats. It would be ideal for a lovely afternoon chai session with your neighbours.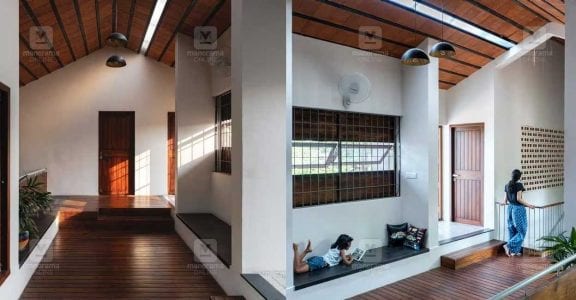 They also gave an inbuilt seating at the landing area of the stairs and provided a utility area adjacent to this. Having said all that, guess what's the main attraction of the home? The double-height courtyard! And what's more, they have added, inbuilt seats and a hanging chair there.
To keep their golden shower tree in perfect condition, they designed some parts of the wall in such a way that it didn't hinder the growth of the flowers. It's interesting the number of spaces they allotted for family meetings. The terrace for instance has inbuilt seating and would be a perfect place for evening coffee, in the backdrop of their favourite golden shower tree! Such a safe haven for this family indeed!
Project facts
Location- Edappally, Kochi
Area- 3030 Sq.ft
Owner- Vimal Vijayan
Design- Soumya & Jills Architects, Kochi
Email- [email protected]