The old house of Prashant and Anjali in Edapally, Kerala, had the inconvenience of age. But they were not willing to go for demolition or renovation. So the house was kept, and a new house was built nearby with up-to-date facilities. There was only 2.7 cents of space. There arose a modern house with maximum space utilization.
The elevation of the new house is flat-box type. The wall is built a little higher so as not to feel cramped. The sliding gate also helps to optimize the space. The porch has a cantilever roof to save space. Along with this, the porch is extended by spreading the polycarbonate sheet.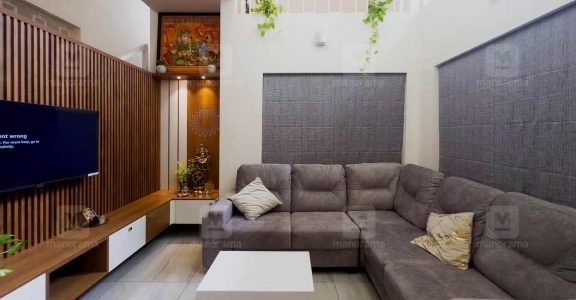 The porch, sit-out, living, dining, courtyard, kitchen, workshop, and single bedroom are on the ground floor. Upstairs, there is a bedroom, study area and balcony. The total area is 1580 square feet.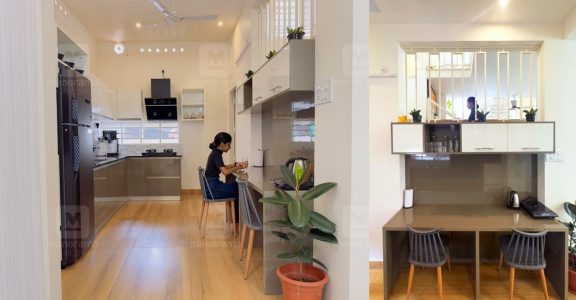 Unnecessary interior decorations were completely avoided as the work had to be done within a precise budget. The furnishing is in a minimalist style.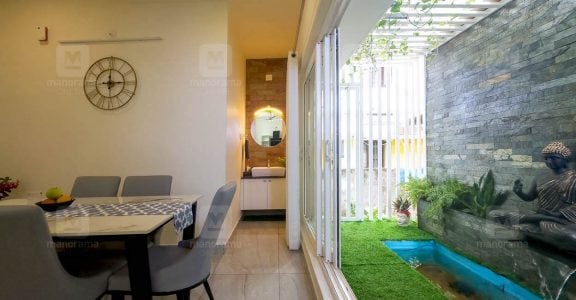 The side wall was raised and converted into a courtyard. You can enter through the sliding glass door from the dining room. There is a Buddha statue here.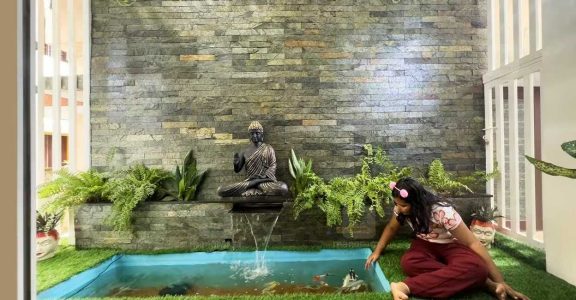 The staircase landing was made into a study area to make use of the space. From here we can enter the balcony. Care was taken in the design to avoid the difficulty of building a house in a small space and the limitation of wind and light. Places are arranged on a semi-open policy. Lots of windows were provided. Living is double height. So it feels spacious when you step inside.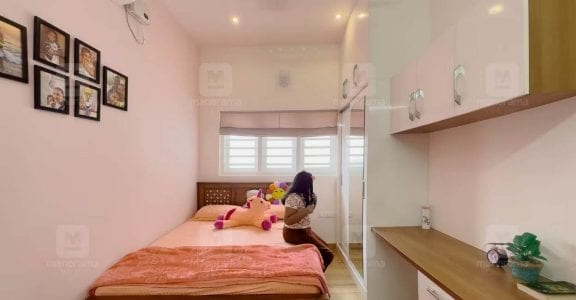 In short, the house was successful in overcoming the space limitation and providing the necessary facilities for a small family. It is a model that can be emulated by those building houses in cities or on small plots.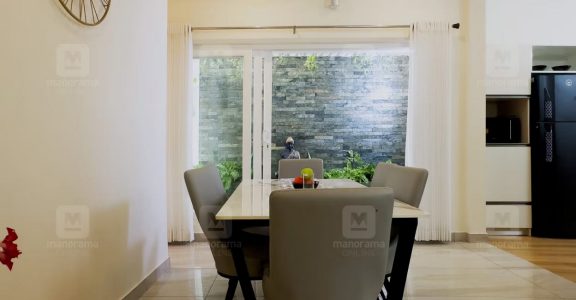 Project facts
Location- Edappally, Kochi
Plot- 2.7 cent
Area- 1580 Sq.ft
Owner- Prashanth, Anjali
Architect- Rejna Hameed, Acube Architects+ Builders, Kochi