Nirmal who works as an engineer abroad and his wife Amalu have built their brand new house at the picturesque countryside of Karingari, about 15 kilometres away from Mananthvady in Wayanad, Kerala. The huge family comprising of the owner, his parents, siblings and their families are delighted that they now have a splendid family home which is spacious and beautiful.
It was the owner, his wife and contractor and architect Moideen who designed this fabulous single-story house that perfectly suit the unique climatic conditions of Kerala. Meanwhile, the elevation features an amazing fusion of traditional architectural style and chic European style. Everyone in the family wanted a single-storey home in order to enhance familial bonds and ensure better communication. Moreover, they wanted the new house to resemble the structure of the old ancestral house.
GI truss roof has been installed over the flat roof and is paved with ceramic tiles. So, the vacuum space between the roofs helps in reducing the heat inside the house. Besides, this area could be used as a multi-purpose storage space.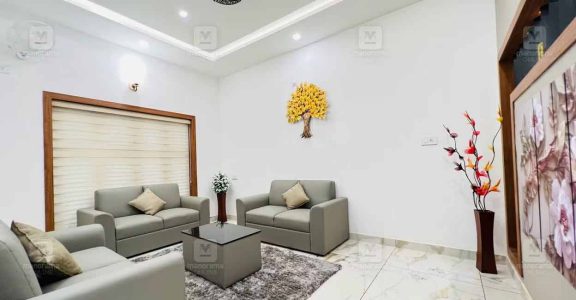 There is a spacious sit-out and a foyer in the front followed by a well-furnished formal living area. These common areas lead to the beautiful courtyard which is the soul of the house. Decorated with indoor plants and a hanging cot, the courtyard exudes positive vibes. This charming spot is part of the spacious hall.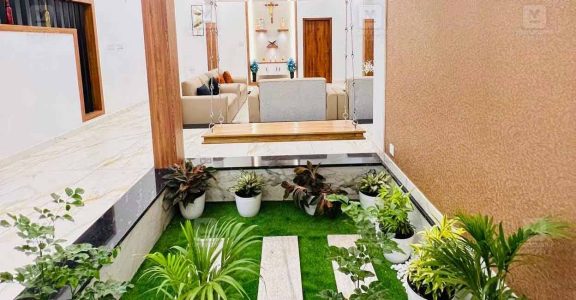 Designed in 2950 sqft, this spectacular house has a sit-out, dining area, an adjacent patio, wash area, pantry area, a quaint breakfast counter, spacious kitchen with a work area, store room and five bedrooms with attached bathrooms. As the interior spaces are designed by following the rules of Vastusastra, natural light, and air enter the house abundantly.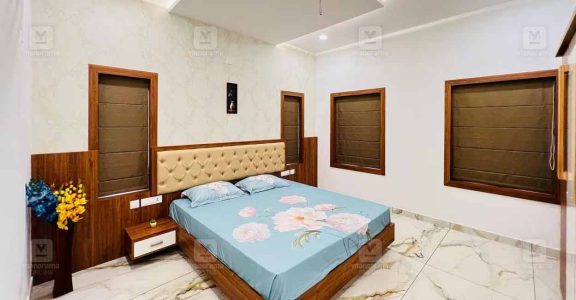 While vitrified tiles with a carving effect have been paved on the floor in most of the areas, wooden finished tiles are used in the kitchen and work area. Besides, granite is used on the kitchen and work area countertops as well as in the wash area. Most of the furniture pieces including cots, cupboards, study tables, wash area, dining table and chairs, kitchen cabinets and wardrobes are custom-made to match the interior theme of the house.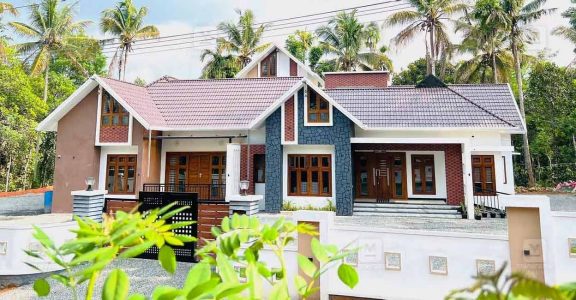 The landscape is minimal yet elegant. Chips have been paved on the front yard to grant a clean look. Besides, verdant lawns are grown close the boundary walls to ensure a soothing environment.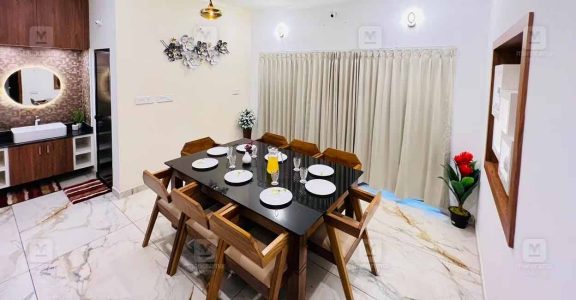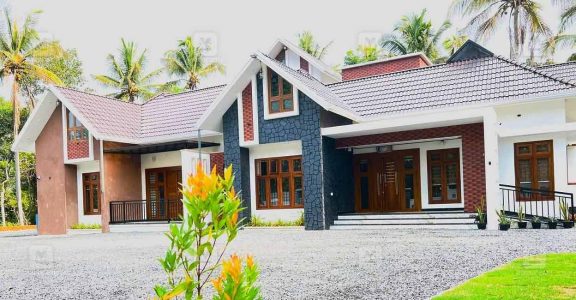 The large family can't hide their excitement when they say that they wish to make new and amazing memories in this splendid home.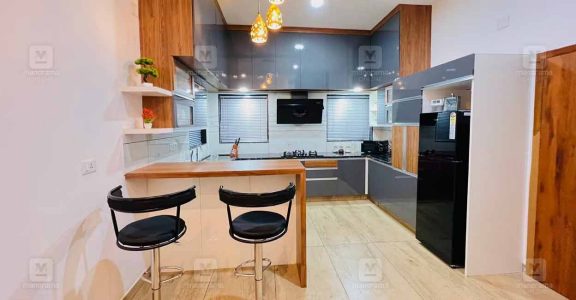 Project Facts
Location – Karingari, Wayanad
Plot – 25 cents
Area – 2950 SFT
Owners – Nellikunnel Family
Year of completion - 2023