Kerala has got used to the heartbreaking news of torrential rains and flash floods, in the last few years. Houses that effectively overcome floods have become relevant in this age. Babu's new house that stands on the banks of Kuppam River in Kannur is one such house that has been built to tackle the rising water levels.
Babu's parents had migrated to Kannur from Pala in the 1940s. He was a building contractor and a supervisor before retiring a few years ago. Babu began thinking about building a retirement home after his children got married and left the house.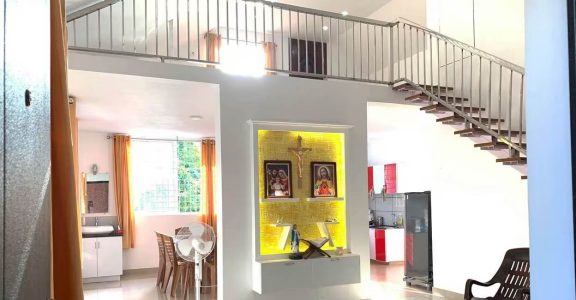 Babu dared to construct his retirement home on the banks of the Kuppam River when people were scared to build riverside homes after the deadly floods of 2018.
Babu says that the river often breaches the banks during the monsoon and the flood water gushed into the house. The new house is built to allow the water to flow away unhindered. However, it was extremely difficult building the foundation of this house. The foundation stands on plinth beam which was installed by piling up to 13 feet deep. After that, fifteen pillars were built at a height of nine feet.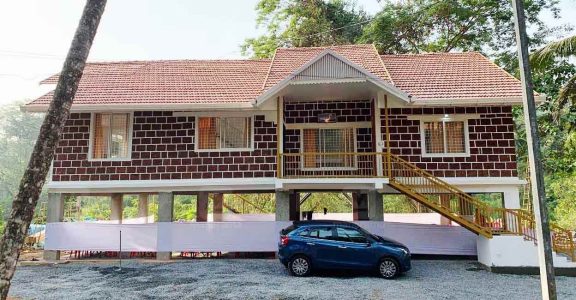 Designed in 1900 sqft, the beautiful house has a sit out, living and dining areas, kitchen and three bath attached bedrooms.
The river breached banks in the monsoon that came after the construction was completed. However, the water flowed underneath the house, without flooding the house. The family, meanwhile, was relieved that their experiment has been successful.
The bedrooms are arranged in such a way that scintillating views of the river could be enjoyed from here. As the dining area and the kitchen have some ceiling height, a mezzanine floor which is used as a multi purpose area too has been built. From here, one could enter the balcony from where the fabulous view of the river could be enjoyed.
The minimal kitchen has all the required facilities. Meanwhile, the cabinets have ferro cement slabs with ACP sheet doors.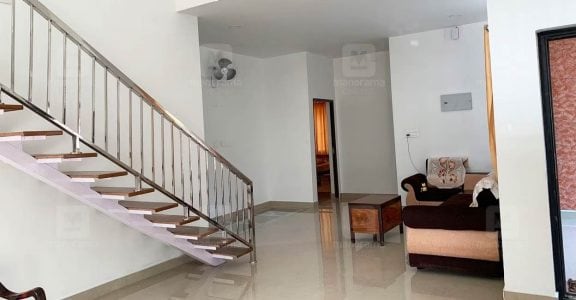 The construction of this amazing abode was completed on an affordable budget of Rs 30 lakh. The limited use of timber for furnishing has helped in reducing the expenses. Instead, alternate materials like steel, UPVC and glass have been mostly used. In such a unique plot, money was mostly spent for building the foundation and polishing the outer walls.
Project Facts
Location – Karthikapuram, Kannur
Area – 1900 SFT
Owner and designer – Babu Vattakkunnel
Year of completion – 2019 December