Rajesh and Tabu are proud to show around their brand-new tropical-style house in Payyoli at Kozhikode, Kerala. Interestingly, they built this house as a gift for their parents. The couple who are settled abroad wanted a simple yet classy house to make maintenance easier for their aged parents.
In order to achieve the beautiful tropical vibe, GI truss roof has been installed over flat roof. This helps in reducing the heat inside the house. Interestingly, the detached-style car porch has been designed as a miniature of the structure.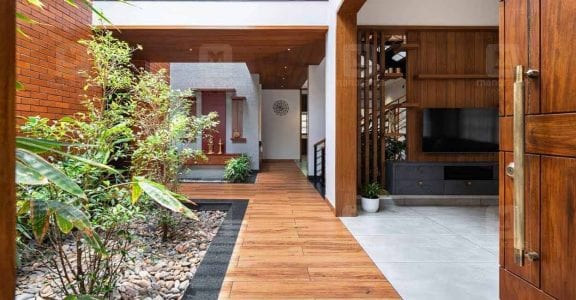 Designed in 3300 sqft, this amazing mansion has a sit-out, formal living area, courtyard, dining area, kitchen and two bedrooms on the ground floor. Meanwhile, the upper floor has two more bedrooms, a balcony and an open terrace garden. The interiors are designed in a semi-open style. The spaces have been designed by giving prime importance to natural lighting and cross ventilation.
The owner says that his parents love plants and greenery and find great joy in tending to the plants.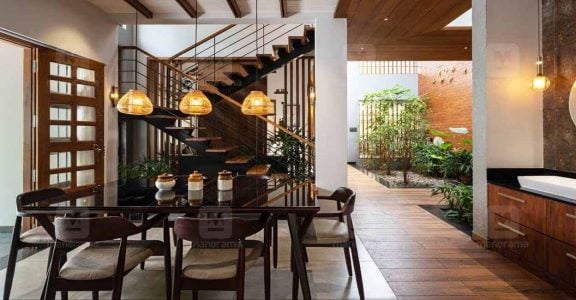 The curtain creeper plant in the sit-out never fails to attract attention. There is an open balcony just above the sit-out. The lush green vines from the balcony cascade into the sit-out, granting a soothing charm to this area. Interestingly, lots of other plants and a comfortable sitting space to are arranged here. The old couple often spent their evenings here, in the company of their beloved plants.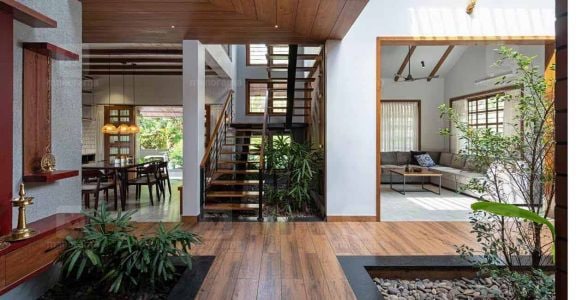 The beautiful courtyard is the highlight of the interiors. The glass roof brings golden sunshine into the house. The pebble-paved main courtyard is decorated with bamboo and other indoor plants. Meanwhile, the mini courtyard beneath the staircase boasts amazing indoor plants and greenery.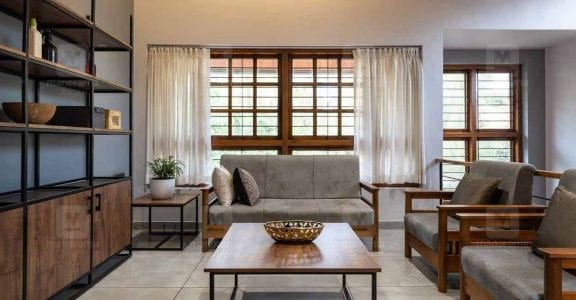 There is a glass door in the dining area which opens to the yard. The family grows a quaint vegetable patch and a garden here. The dining area and the kitchen are done in the open theme. The compact kitchen is extremely space efficient. The cabinets are done in marine plywood with a laminate finish. Meanwhile, nano white has been paved on the countertop.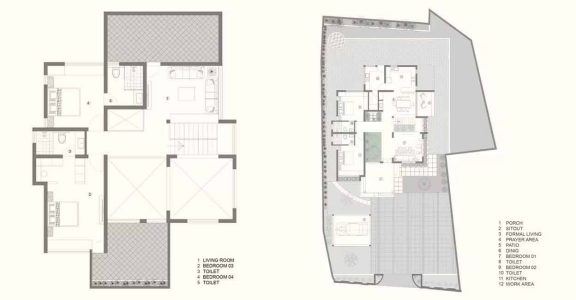 Rajesh and Tabu were abroad while most of the construction work was completed. They relied on hours-long phone calls and video calls to plan and execute the designs. They are happy that their dream dwelling turned out exactly as they had imagined.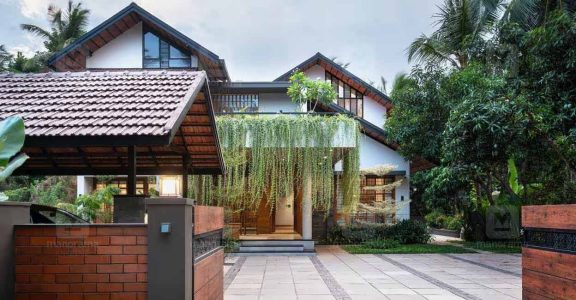 Project Facts
Location – Payyoli, Calicut
Plot – 14 cents
Area – 3300 SFT
Owner – Rajesh and Tabu
Architect – Jithin K
JK Architects
Year of completion – 2022 December