Vaisakh, an architect who has designed hundreds of homes for his clients was thrilled to design his own dream abode in his hometown in Payyannur in Kannur, Kerala. The structure has been built to suit the unique weather conditions here. Meanwhile, the elevation features a fabulous fusion of contemporary and traditional elements. The grey texture painted walls on the exteriors strike the perfect contrast against the lighter hue. The ground floor has a sit-out, formal and family living areas, dining space, kitchen with a work area, two bedrooms and a bathroom. Meanwhile, there are two more bedrooms, a study area and an entertainment room in this beautiful house designed in 2600 sqft. Interestingly, timber hasn't been used at all for furnishing in this house, except for a hanging cot on the upper floor. Most of the furniture pieces are made with GI with a paint finish. The most amazing advantage of this is that the color of the furniture too could be easily changed if the owner decides to alter the color palette of the house, in the future. Meanwhile, the PU finish grants a chic look to these designer furniture pieces. It must be noted that this cannot be done in laminate or veneer furnishing. The dining table done in GI frame has a tile table top that adds a sheen. A classy bench is arranged on one side while the other side has three chairs. Interestingly, these chairs too are made in GI frame with attractive upholstery work.
The staircase in GI with the hand railings featuring wood finish PU coating is simple yet elegant.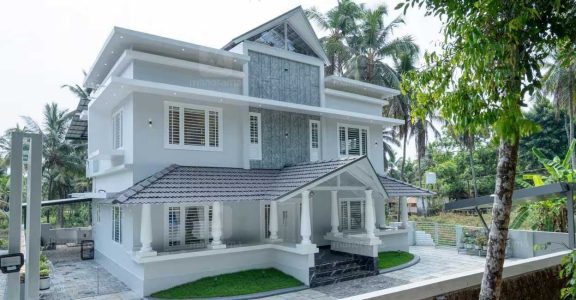 The kitchen cabinets made in multi wood are completed with PU paint finish. Meanwhile, slab tile has been paved on the countertop.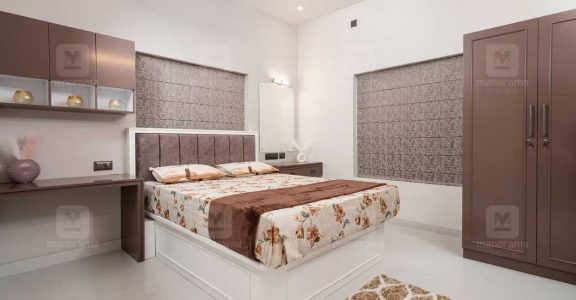 Lots of storage spaces have been arranged in the bedrooms. The bath-attached bedrooms have wardrobes and separate dressing spaces. Storage spaces are arranged even on the head side walls to make the rooms space efficient.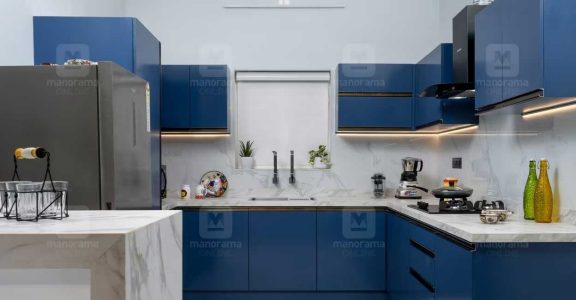 In most houses, even though the walls are repainted in different shades in the future, it may not be able to change the furnishing. However, here, the entire house, including the furnishing, could easily undergo a makeover whenever the family desires.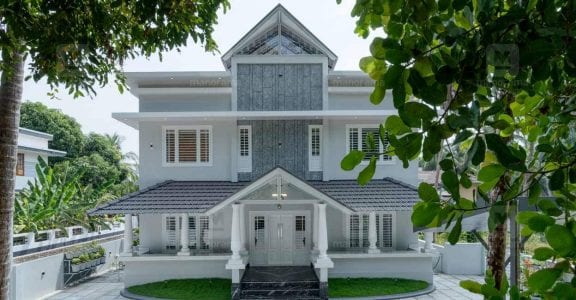 Project Facts
Location – Payyannur
Plot – 10 cents
Area – 2600 SFT
Owner and designer – Vaisakh Rajan
Pravega Associates
Year of completion – 2023
Pictures – Akhil Komachy