Sadanan and Anitha are delighted to share their experiences of building their dream abode at the countryside of Mulakulam in Kottayam, Kerala. Interestingly, the owner who is a carpenter, played a vital role in the designing and building of his house. The family wanted a beautiful house with all the required amenities on an affordable budget of Rs 23 lakh. The house stands in a 10 cents plot that the owner had inherited as ancestral property. The plot was on a hilly terrain; so, it took some time to level the plot and then construct the foundation.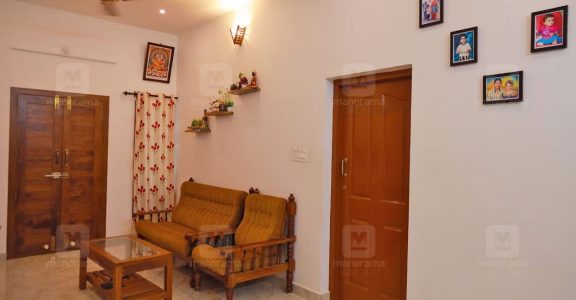 The elevation features a contemporary flat box style to make the house space efficient. The structure has been built using laterite stones. Meanwhile, timber was purchased for the woodwork.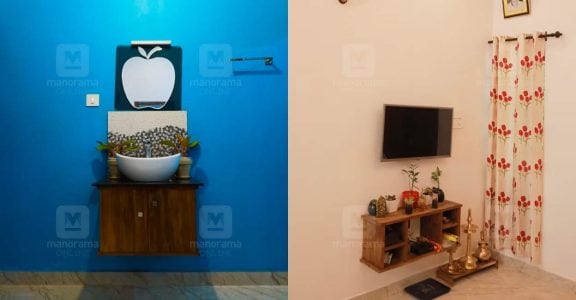 The owner was not ready to compromise on the quality of the construction materials to gain minor profits as it may cause additional expenses in the future. After plastering, the walls don two coats of putty primer.
Designed in 1157 sqft, the house has a sit-out, living and dining areas, three bedrooms, a kitchen with a work area and three bathrooms too.
The entrance door opens to a spacious hall where the living and dining areas have been arranged. Interestingly, the open hall looks and feels vaster.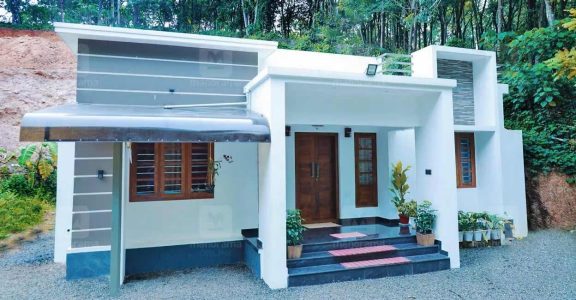 The furniture pieces were custom-made by the owner himself. His children too had helped him in small jobs during the construction. The wall in the wash area is highlighted with an attractive blue hue.
The front yard is paved with baby mettle to grant a clean look. The construction of this amazing abode, including the structure and furnishing, was completed on a budget of Rs 20 lakh. The construction was completed in under seven months which helped in keeping a check on the expenses. This house proves that middle-class families can build beautiful houses with all the amenities on a limited budget without pushing them into heavy debt.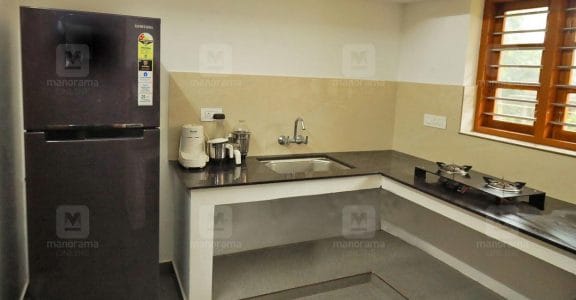 Among the many factors that helped in reducing the expenses, making the house space efficient by reducing the area in square feet played a pivotal role. LED lights have been directly installed without a false ceiling. Tiles that cost Rs 50 per square foot have been used for flooring works. Elaborate cabinets aren't built in the kitchen for storage.
Project Facts
Location – Mulakkulam, Kottayam
Plot – 10 cents
Area – 1157 SFT
Owner – Sadanan and Anitha
Design – Binu Mohan Achari
Sree Sankara Designers and Builders, Kottayam
Mob – 9048421019
Year of completion – December 2022