Joshua Joseph's brand new house in the countryside of Chowka at Thrissur, Kerala has been grabbing attention for its unique elevation and eye-catching designs. Interestingly, the plot is around three metres below the road level. The natural layout of the plot has been retained and was not raised using sand before the construction began.
The elevation features an elegant fusion of geometrical patterns like flat, slopes and curves. Meanwhile, the classy colour combination of grey and white perfectly complements the shapes. Cladding tiles in cement finish and the shingles paved on the roof add texture and charm to the elevation.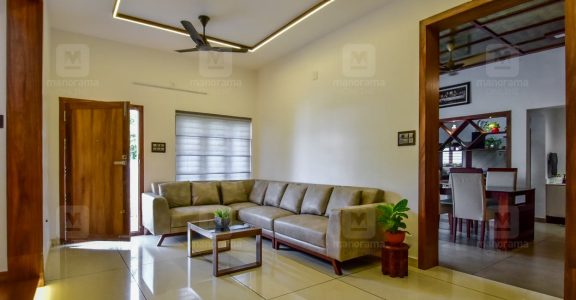 The aesthetically designed landscape plays a crucial role in highlighting the fabulous elevation of the house. The driveway paved with Bangalore stones, the verdant lawns with Mexican grass and the beautiful garden adorned with pants and trees make it a haven of pleasant greenery.
Designed in 2334 sqft, this amazing abode has a sit-out, living and dining areas, a kitchen with an adjacent work area and two bath attached bedrooms on the ground floor. Meanwhile, the upper floor has a living area, two more bedrooms, a balcony and an open terrace.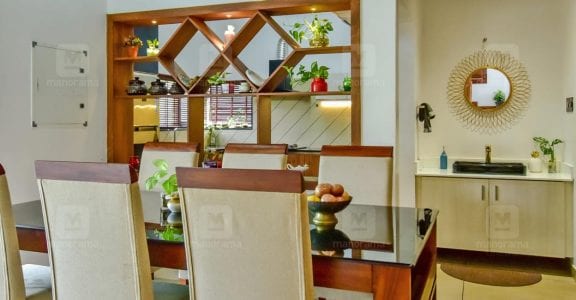 The interiors are designed in a semi-open style. The entrance door opens to the elegantly furnished living hall where the living area, staircase and prayer area are arranged. The prayer space has been smartly designed as part of the staircase. The flooring works and the wall panelling in a wooden theme grants a scintillating ambience to this area.
The dining area and the kitchen are part of the open hall.
Interestingly, a mixture of various textures and colours has been tried on the floor. Vitrified tiles, wooden tiles and lapotra granites have been used for flooring in this house.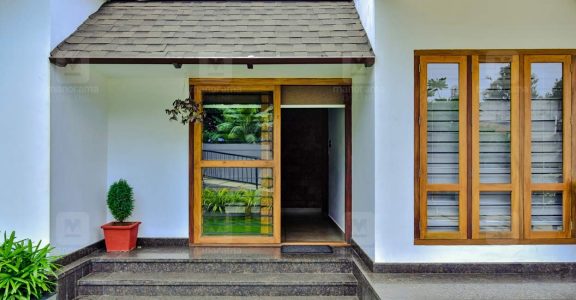 A sliding glass door in the dining area opens to the beautiful lawn that connects to the landscape. Cool breeze enters the house if this door is opened.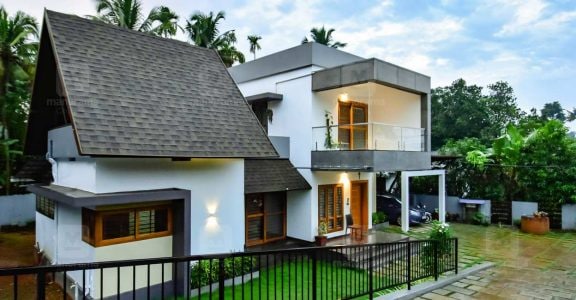 A display shelf which also acts as a mini pantry counter is what separates the kitchen and the dining area.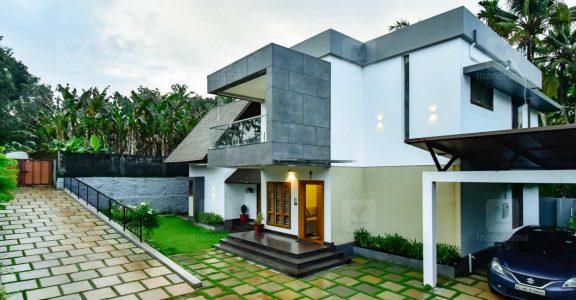 The main kitchen has been designed in 'L' shape. The cabinets, meanwhile, are done in plywood with laminate finish. The countertop is paved with black granite to add contrast.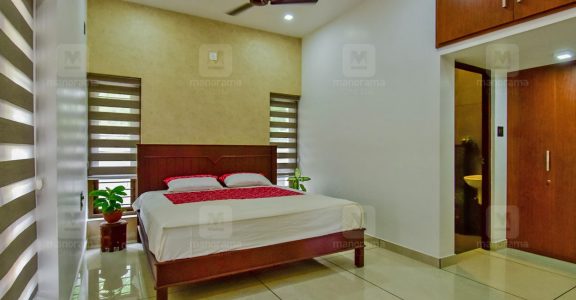 The bedrooms are simple with head side walls decorated with attractive wallpapers. The indoor plants, meanwhile, exude positive vibes. The bath-attached bedrooms have inbuilt wardrobes for storage. The upper living area is furnished with minimal cane furniture. A sliding glass door could be seen here to access the balcony.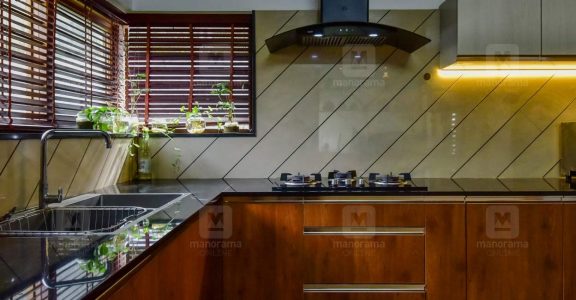 It must be noted that the upper floor looks like an exact copy of the ground floor. Moreover, the spaces are designed to let in lots of natural sunshine and cool air.
The family is joyous that the house looks exactly as they had imagined.
Project Facts
Location – Chowka, Thrissur
Plot – 12 cents
Area – 2334 SFT
Owner – Joshua Joseph
Architect – Sonu Varghese
Mirror Window Architects, Thrissur