Gracy Matthew, the lady cop in Priyadarshan's recent outing 'Corona Papers', earned a lot of haters, because of her aggressiveness and unsympathetic nature. Mumbai-based actor Sandhya Shetty who played the character onscreen is happy that she has been able to capture a space in people's minds through her character.
"It shows that I was able to do justice to my character. Besides, the hate is only directed towards the cop character I played. The love that I have been receiving from Malayalis worldwide is unbelievable," says the super model-turned-actor.
Sandhya who hails from a Tulu-speaking household says she is blessed to play a lengthy role in the national award-winning director's work. "It's any actor's dream to work in a film helmed by Priyadarshan sir. I went in expecting a 100 per cent, but came back with 200 per cent experience," she says adding her co-stars Shine Tom, Vineeth Sreenivasan and Shane Nigam were exceptionally wonderful. "All these actors are simple and down-to-earth. They are also focused on their work. That is one aspect I love about Mollywood actors. I would spend several hours in the vanity van with Shane Nigam, discussing music. Shine is also a wonderful actor. I know people perceive him as a different person but he is very focused about his work. Vineeth is so humble, despite being very talented," she adds.
So, how did an actor who is quite new to the film industry land a role in Priyadarshan's movie? "I was associated with Priyadarshan sir's previous Tamil film 'Nimir'. In fact, I started considering a career in films seriously only after being cast in that movie," says the actor, who also played a prominent role as Suniel's daughter Paravathy in the crime TV series 'Dharavi Bank'.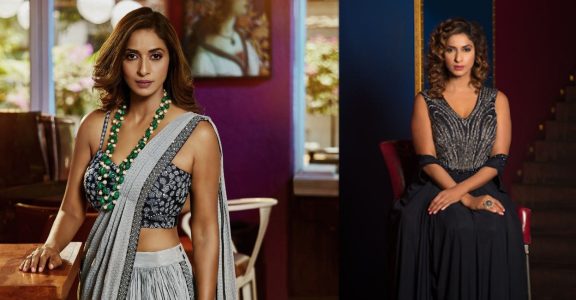 She adds that Priyadarshan is a great captain. "He creates the right atmosphere for his cast and crew, which makes us want to deliver our very best. Sir had immense trust in me which gave me the confidence to nail my role," she said.
According to her, her years-long training as a karate professional and a National Cadet Corps (NCC) cadet, enabled her to play the lady cop with elan. "My NCC training really helped. It taught me how to behave with poise. So did my 22 years of martial arts training," says the actor who won a gold medal at the Commonwealth Karate Championship in 2015.
Since she always dreamt of becoming a police or army personnel in real life, she would any day grab police roles that come her way, she says with a laugh. "However, I would ensure my character is different from Gracy Matthew for sure, because as actors, experimenting is what gives us satisfaction," she says.
Presently, the actor has not committed to any shows or films. "You would be surprised to know that I am currently reading several Malayalam scripts. I have been investing a lot of time on Malayalam cinema for the past few years, watching several Mollywood movies. I would love to work with phenomenal actors like Indrans who played the lead role in Home, among others," says the actor, who has founded 'No Fear', an organisation focused on empowering women to live without fear.