Professional wrestler Chaz Taylor's first love may be combat sport but that has never stopped him from following his passion for acting. In fact, Chaz believes there is common ground between both the worlds, which is why he still is able to handle both roles with ease.
The son of popular wrestler Tugboat Taylor says both acting and wrestling are an escape from real life. It's entertainment in short, adds Chaz who will be seen in the upcoming Babu Antony-starrer 'The Great Escape'.
"Both require creativity and imagination as it thrives on keeping the viewer entertained. In wrestling, I would try to take some stunts to the next level. I would also design my own clothes to look flashy. If you notice us wrestlers, most of us are dressed up like superheroes. It's part of the attraction of who we are. As a wrestler, I tried unique things to stand out, for I believe normalcy is over-rated," he says.
As an actor, though, he never woke up sore in bed. "As a wrestler, my body has gone through a lot of physical abuse, but that's part of my job and what I signed up for. You shake off the pain by getting up and taking a cold or hot shower with the attitude to take on the world. With acting, we could simply be doing something simple as sitting and chatting without having to throw people around and yet be able to entertain the world.
So, what made him sign up for 'The Great Escape', a film helmed by a Malayali Sandeep J L and starring actor Babu Antony. "Director Sandeep is a friend of mine and we have known each other since he coordinates a stunt team in Hollywood. I'm also a stunt coordinator by profession and that's how we got together for the film . It was special working in this movie," he says.
Working with Babu Antony
Chaz says it was interesting working with Babu Antony in the film. "I knew Babu Antony much before we began working in this film, not personally, but I was familiar with who he was. It was nice to work with him. Like he accepted me. He knew who my father was and about us and all. Our combination scene at the climax of the film is powerful. I would have loved to have more combination scenes with him," says Chaz who plays a villain in the movie. "Well, the film is about rival mafia gangs. So, yeah, all of us are bad guys. But, yeah, the audience would have to decide who is the 'better' guy among the villains," he says.
Chaz adds there were similarities to people he knew in real life in the film. "The film was special since I have come across people like them in real life. Also, it gave me the chance to be the bad guy. You see, in wrestling, I always played the good guy, who has charisma and smile. This was different," he says.
Chaz has an interesting theory about life. "My life is like pressing the start option of a computer. Control (Ctrl) + Alt+ Delete. Control your actions and what you want to do. If you are not happy with the situation, you change it by finding an alternative. Last but not the least, you delete the bad conversations. It is a good way to live your life," he adds.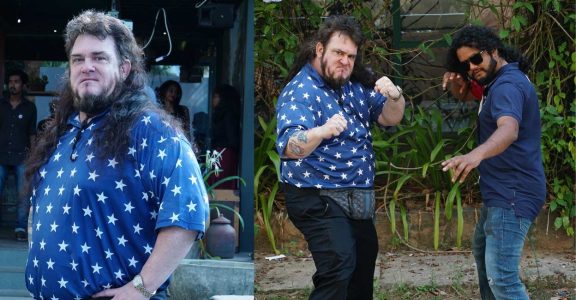 According to him, some people go by life, being angry and spending their life in negativity. "I know people, even some of my friends, who go about angry because of certain situations in life. Some of these situations didn't even happen to them but then they generalise and live with that negativity. That's not how to live life. I think part of maturity is taking situations, individualizing them and then compartmentalizing the whole thing. You put it in a way that it does not affect the rest of your life. My sister got married to an African-American. I was in my 20s when he killed her. I could have hated every person from that community, but I only hate him. Why would I want to put that on an entire community," he asks.
Working as a stunt master
In 'The Great Escape', I let Sandeep be the stunt coordinator. He is amazing at stunts. I just did what he wanted me to do. Being a stunt master or coordinator is not an easy job. In fact, it requires a lot of skill. I worked in a famous TV show called 'Suplex Duplex Complex' both as an actor and a stunt coordinator. My job was to teach people how to fall without getting hurt. It may look easy, but falling is not an easy task. Many people end up in hospital attempting to do that in films. There is a technique to follow to ensure you don't end up breaking every bone in your body. I feel hurt when other people get hurt. Their safety is completely your responsibility," says Chaz who also runs a wrestling school back in the United States.
'The Great Escape', which will hit theatres on May 26, will mark Babu Antony's son Arthur's debut in films as an adult. He had appeared as a child actor in 'Idukki Gold'. The multi-lingual film will revolve around an immigrant family without proper documentation who reaches the United States to lead a better life. However, they are caught in between a mafia war.